Material & Design
Ultra Racing a Trusted Brand Worldwide
Brand : UR (Civic EK 2 points)
Bracket : Non Adjustable
Bracket thickness : 4mm
Weight : 1.5 KG
Commpresion Impact : 3mm (100 psi)
Brand : X (Civic EK 2 points)
Bracket : Adjustable
Bracket thickness : 4mm
Weight : 1.4 KG
Compression Impact : 70mm (100 psi)
Brand : UR (Civic EK 2 points)
Bracket : Non Adjustable
Bracket thickness : 4mm
Weight : 1.5 KG
Flex : 50mm (8 kg/m)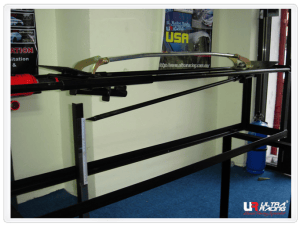 Brand : X (Civic EK 2 points)
Bracket : Adjustable
Bracket thickness : 4mm
Weight : 1.4 KG
Flex : ? (8 kg/m)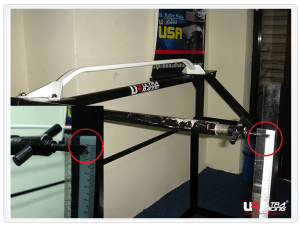 Brand : UR (Waja 2 points)
Bracket : Non Adjustable
Bracket thickness : 4mm
Weight : 1.8 KG
Torsion : 47mm
Brand : X (Waja 2 points)
Bracket : Adjustable
Bracket thickness : 4mm
Weight : 2.0 KG
Torsion : 85mm
Brand : CCC (Waja 2 points)
Bracket : Adjustable
Bracket thickness : 3mm
Weight : 1.4 KG
Torsion : 210mm
MATERIAL SPECIFICATION & DESIGN
Every materials used are carefully selected to ensure the best performance and safety. The brackets are made of 4mm to 5mm steel plates, while the hollow steel tubes and oval tubes are of 1.2mm to 1.6mm thickness. These materials are selected to ensure the bars are rigid and strong to maintain constant geometry at all times, yet safe enough to crumble during an impact for safety reason.
All our raw materials has been made and tested with satisfactory result.
MILL / TEST CERTIFICATE (Chemical Composition)
Specification
– JIS 3101 SS 400 (Japan International Standard)
– JIS G 3141 SPCC SD (Japan International Standard)
– ASTM A 500 Grade A (American Standard)
– BS 1387 ( British Standard)
STEEL VS ALUMINUM

Why we use Steel instead of Aluminum?
First, steel is stronger than aluminum for the same size and thickness. In order for aluminum alloys to be at least the same strength as steel, it has to be at least double the thickness (steel 4mm = aluminum 8mm). When that happens, weight saving is not so apparent anymore. Of course there are also exotic materials and alloys that can match the strengths of steel, but the cost are astronomically high and therefore not very cost effective to bring into mass production.