2021 Perodua Ativa SUV launched in Malaysia

Finally, the Perodua Ativa (A270) 1.0T (2WD) has officially launched in Malaysia. In this new era, which focuses on sustainability and globalisation, the Malaysian market leader has worked closely with shareholder and technical partner Daihatsu, a wholly-owned subsidiary of Toyota. This new Perodua Ativa is using the similar chassis platform with Toyota Raize and Daihatsu Rocky.
Ultra Racing as a chassis tuning specialist, would not miss out this opportunity to develop our product for the latest model of Perodua Ativa for Ultra Racing's lover. We're proud to have Malaysian Youtuber Mr Azli from Seven View Channel to join us in this interview and also to experience his customer's Perodua Ativa installed with a full set of Ultra Racing's bars.
How many bars available for Perodua Ativa?
The bars that are available for Perodua Ativa are Front Strut Bar, Rear Anti Roll Bar, Front Lower Bar and Rear Torsion Bar. The functionality of each of the bar after installed on your Perodua Ativa are explained below.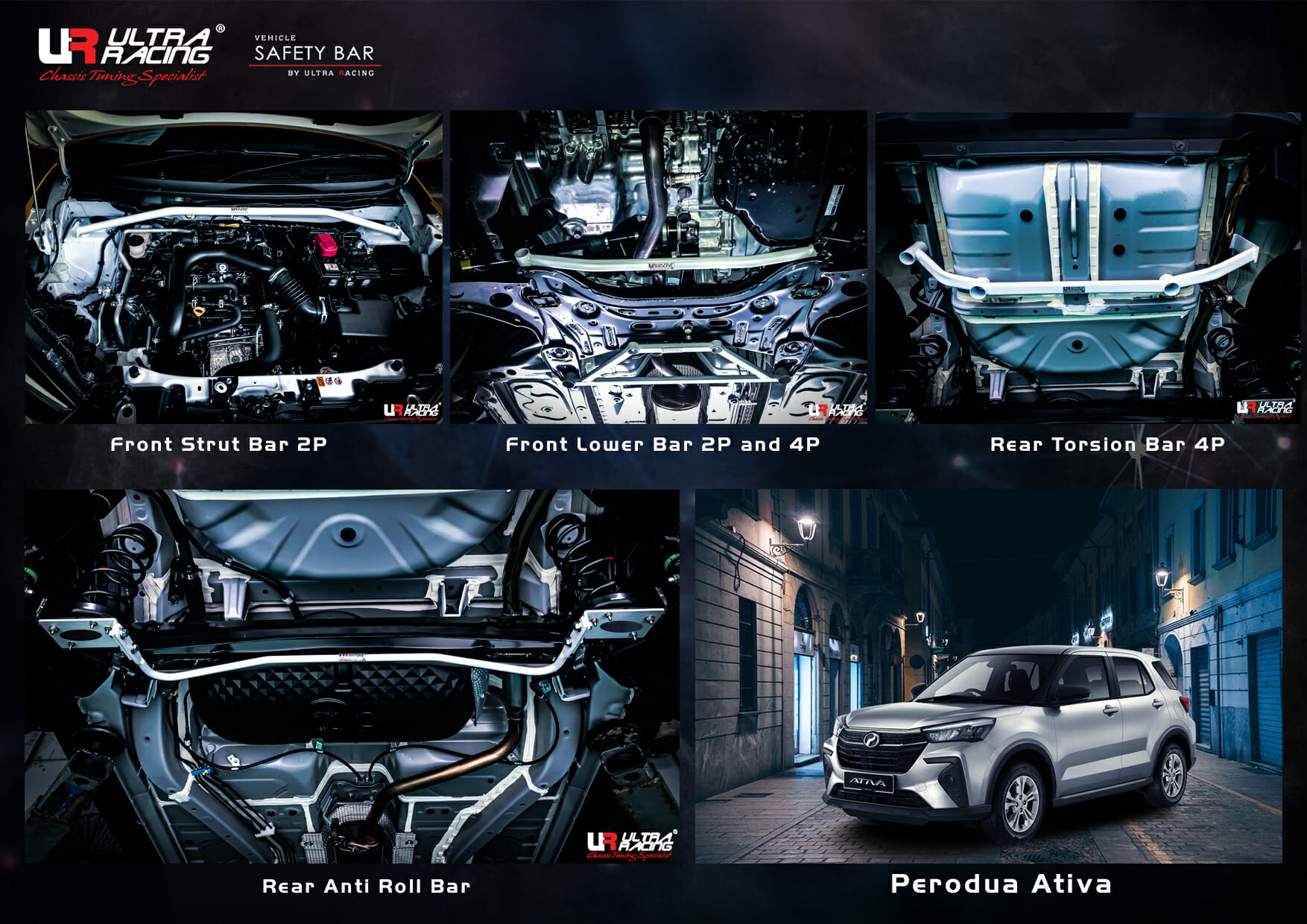 STAGE 1 ( Front Strut Bar  & Rear Anti Roll Bar )

We found out that certain models of car with higher specification do come with OEM front strut bar and rear anti roll bar. Stage 1 which includes Front Strut bar and Rear Anti Roll Bar, is the primary set to enhance the performance of your car.
Front Strut Bar / Front Tower Bar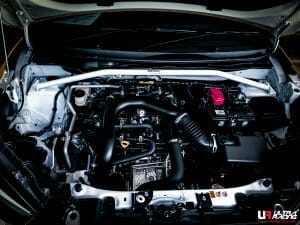 Perodua Ativa 2021 doesn't come with OEM front strut bar from car manufacturer. For this Perodua Ativa, Ultra Racing has developed a 2 points front strut bar, located at the top of absorber (left and right) in order not to affect the normal procedure of service and maintenance.
The car chassis will affect the left and right strut tower and suppress changes in body distortion that occur during running. Furthermore, continuous stress will cause distortion little by little. As known by majority, tire friction, suspension forces, defects from rain water and old car with age will affect a car's life span. Aftermarket suspension and modifications will also increase the burden of the car chassis. 
One of the methods to deal with such a situation is to install a front strut bar/front tower bar, by connecting the left and right strut towers to increase rigidity. Apart from being easy to install, it is the most effective reinforcement part that demonstrates high performance.
Rear Anti Roll Bar / Rear Sway Bar / Rear Stabilizer Bar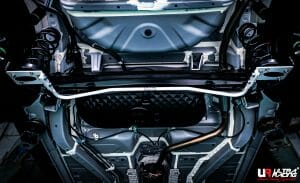 The OEM rear suspension setup of Perodua Ativa comes with torsion beam system, but it doesn't come with OEM rear anti roll bar. Ultra Racing has decided to develop a solid 16mm OD (outside diameter) rear anti roll bar, as it significantly improves the handling performance and maintains the comfortability of the car. Also, taken into consideration is the difference of thickness between the design of upper and lower brackets assembly, which is 4mm for upper bracket and 5mm for lower bracket.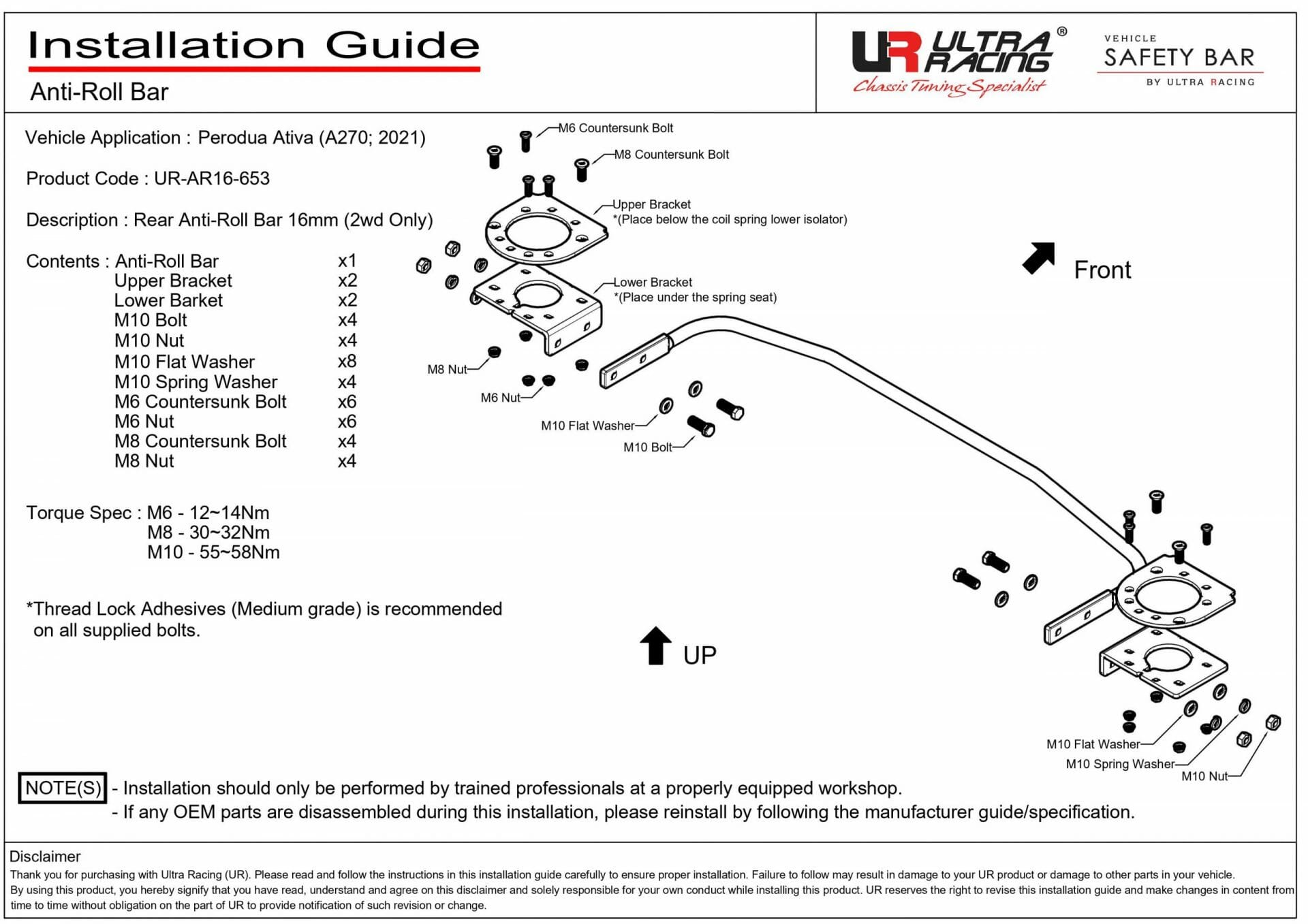 A normal road is not flat as a race track, it comes with an uneven and bumpy road surface. When the left and right suspension alignment are different such as during cornering, the stabilizer twists the bar and suppresses the roll by its restoring force. This will result in an understeer or oversteer and also there's a risk to lose control if over body roll. 
The reason why automakers install stabilizers with higher spring constants than usual on genuine sports type and high-grade cars is because they intend to suppress rolls and improve ride quality.  We've found out that there are 2 scenarios shown in the market, either the higher specification of car comes with OEM rear anti roll bar or the thickness of OEM rear anti roll bar will be depending on the specifications.
By installing the suitable size of anti roll bar, it is possible to suppress the roll of the vehicle's body without stiffening the suspension and improving cornering and traction. In addition, since the left and right wobbling is suppressed and the posture is stable, there is no discomfort and the risk of motion sickness is reduced.
STAGE 2 ( Lower Arm Bar )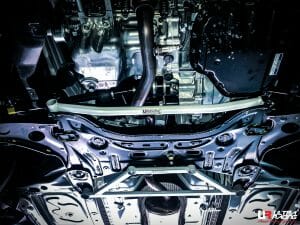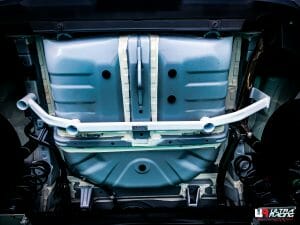 Front Lower 2P & 4P                                        Rear Torsion
Stage 2, comprising Front Lower Bar, Mid Lower Bar, Rear Torsion and Side Lower are able to reduce the car chassis flex and also to strengthen the main chassis platform. It is highly recommended for heavy load vehicles such as SUV or MPV as it helps to enhance the stiffness and handling during higher speed  and cornering.
For Perodua Ativa, Ultra Racing have developed front lower bar in 2 points & 4 points and rear torsion bar. We didn't develop the Mid lower bar and rear lower bar for Perodua Ativa as it doesn't have the suitable installation point from the OEM chassis. Thus, we do not encourage to modify the chassis to install the bar.
So, there you go, Ultra Racing's bar for Perodua Ativa. What do you think? Come and experience it by yourself!