2019 Perodua Aruz SUV launched in Malaysia

Perodua Aruz SUV is officially launched in 2019. Equipped with Dual VVT-i and Eco Idle (auto start-stop), Perodua claims the Energy Efficient Vehicle (EEV) engine has a fuel economy of 15.6 km/l. If the engine seems familiar, it is the same as the latest Myvi and Toyota Rush.
A four-speed automatic gearbox is standard regardless of which variant you pick, with drive going to the rear wheels. This setup is similar to what you'll get with Toyota Rush and the Indonesian-spec Daihatsu Terios, which the Aruz shares a lot in common with. Also, Perodua Aruz comes with a rear live axle with coil spring suspension.
Perodua's Advanced Safety Assist (ASA) 2.0 suite is also exclusive to the 1.5 AV which includes Pre-collision Warning, Pre-collision Braking, Front Departure Alert and Pedal Misoperation Control.
While these systems are similar to what you'll get with Myvi, Aruz's active safety suite has additional pedestrian detection (up to 50 km/h) and increases the operational speeds of Pre-Collision Warning to 100 km/h and Pre-Collision Braking to 80 km/h (from 30 km/h) – ASA 2.0 which is similar to the specification with Toyota Rush's Pre-Collision System. Perodua Aruz has been certified with a five-star ASEAN NCAP safety rating.
How many bars available for Perodua Ativa?
In Ultra Racing, the bars that are available for Perodua Aruz are Front Strut Bar, Front Lower Bar in 4 points, Mid Lower Bar in 4 points and Rear Lower Bar in 2 points & 4 points. Based on our experience, Perodua Aruz does not require an upsize of the OEM rear anti roll bar or install additional anti roll bar as it's already fine-tuned by Perodua carmarker. Installing multiple anti roll bars does not mean it will reduce body roll even more. A suitable size of anti roll bar is the most important in reducing body roll.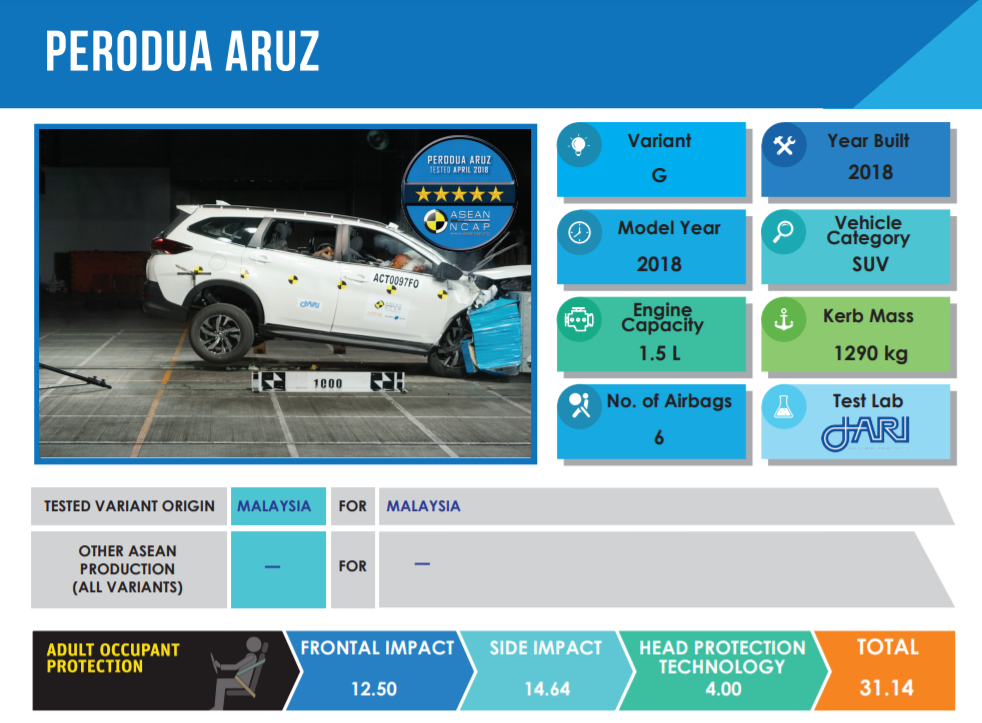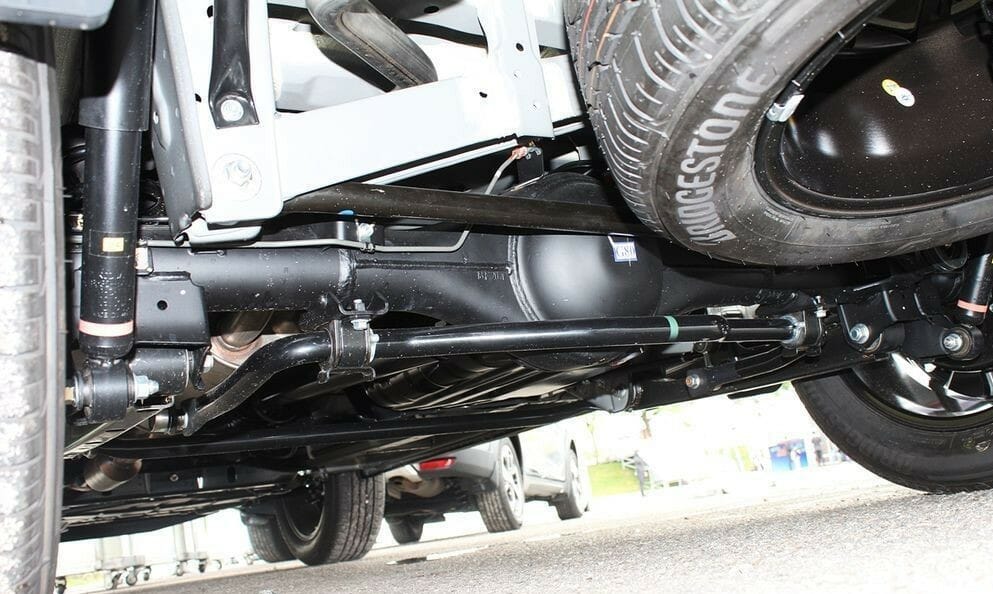 The functionality of each of the bars after installed on your Perodua Alza are explained below.
Front Strut Bar

Perodua Aruz doesn't come with the OEM front strut bar from the car manufacturer. For the Perodua Aruz, Ultra Racing has developed a 2 points front strut bar, located at the top of the absorber (left and right) in order not to affect the normal procedure of service and maintenance.
Front Strut Bar / Front Tower Bar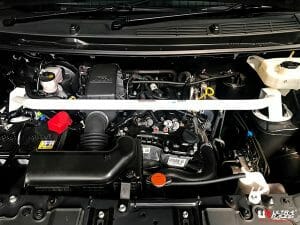 The car chassis will affect the left and right strut tower and suppress changes in body distortion that occur during running. Furthermore, continuous stress will cause distortion little by little. As known by majority, tire friction, suspension forces, defects from rain water and old car with age will affect a car's life span. Aftermarket suspension and modifications will also increase the burden of the car chassis. 
One of the methods to deal with such a situation is to install a front strut bar/front tower bar, by connecting the left and right strut towers to increase rigidity. Apart from being easy to install, it is the most effective reinforcement part that demonstrates high performance.
STAGE 2 ( Lower Arm Bar )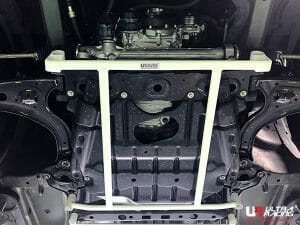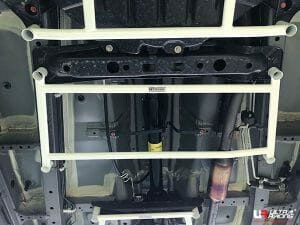 Front Lower Bar 4P                                          Middle Lower Bar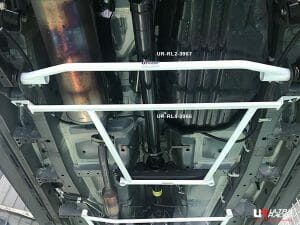 Rear Lower Bar 2P & 4P

Stage 2, comprising Front Lower Bar, Mid Lower Bar, Rear Lower Bar are able to reduce the car chassis flex and strengthen the main chassis platform. It is highly recommended for heavy load vehicles such as SUV or MPV as it helps to enhance the stiffness and handling during higher speed  and cornering. 
For Perodua Aruz, Ultra Racing developed the front lower bar in 4 points, mid lower bar in 4 points, and rear lower bar in 2 points & 4 points.
So, there you go, Ultra Racing's bar for Perodua Ativa. What do you think? Come and experience it by yourself!