Proton X50 launched in Malaysia

Proton's new B-segment SUV – Proton X50 has been officially launched in Malaysia. The X50 is a near note-for-note recreation of the Geely Binyue, or the Coolray as it's known in other markets. The X50 is built on Geely's B-segment Modular Architecture (BMA) and as such features McPherson strut suspension at the front and a torsion beam suspension at the rear.

Proton X50 is user-friendly for the new generation. Stepping up to the Premium model nets you the 360-degree camera system, tire pressure monitoring system, upgraded infotainment system, extra USB ports and twin rear air vents. 
On the safety front, the X50 comes as standard with four airbags, ABS with EBD and brake assist, stability control, hill start assist, hill descent control and rear ISOFIX child seat anchors, while there are  six airbags for The Executive model. This helps further enhanced the safety, verified by the award of full five stars in the ASEAN NCAP crash test.
How many bars available for Proton X50?
In Ultra Racing, The bars available for Proton X50 are Front Strut Bar, Rear Anti Roll Bar in 2 sizes, Front Lower Bar in 2 points & 4 points, Mid Lower Bar and Rear Lower Bar.
The functionality of each of the bars after installed on your Proton X50 are explained below.
STAGE 1 (Front Strut Bar & Rear Anti Roll Bar)

Stage 1 which includes Front Strut Bar and Rear Anti Roll Bar, is the primary set to enhance the performance of your car.
The Proton X50 does not come with the OEM front strut bar from the car manufacturer. For the Proton X50, Ultra Racing has developed a 2 points front strut bar, located at the top of the absorber (left and right) and hidden under the wiper panel in order not to affect the normal procedure of service and maintenance.
Front Strut Bar / Front Tower Bar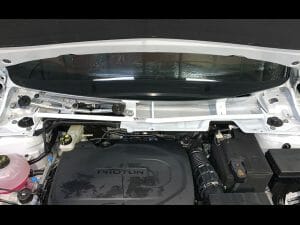 The car chassis will affect the left and right strut tower and suppress changes in body distortion that occur during running. Furthermore, continuous stress will cause distortion little by little. As known by majority, tire friction, suspension forces, defects from rain water and old car with age will affect a car's life span. Aftermarket suspension and modifications will also increase the burden of the car chassis. 
One of the methods to deal with such a situation is to install a front strut bar/front tower bar, by connecting the left and right strut towers to increase rigidity. Apart from being easy to install, it is the most effective reinforcement part that demonstrates high performance.
Rear Anti Roll Bar / Rear Sway Bar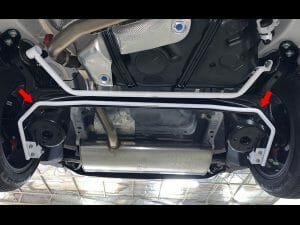 The OEM rear suspension setups of Proton X50 comes with torsion beam system, but it doesn't come with OEM rear anti roll bar. Ultra Racing decided to develop a solid 16mm & 19mm OD (outside diameter) rear anti roll bar, as it significantly improves the handling performance and maintains the comfortability of the car. For a keen driver, you may choose the rear anti roll bar in 16mm setup for your daily driving. If you're a driver who enjoys the fun when cornering, a 19mm setup of rear anti roll bar is the choice you need the most.
A normal road is not flat as a race track, it is often uneven and bumpy. When the left and right suspension alignment are different such as during cornering, the stabilizer twists the bar and suppresses the roll by its restoring force. This will result in an understeer or oversteer and also there's a risk to lose control if over body roll. 
The reason why automakers install stabilizers with higher spring constants than usual on genuine sports type and high-grade cars is because they intend to suppress rolls and improve ride quality.  We've found out that there are 2 scenarios shown in the market, either the higher specification of car comes with OEM rear anti roll bar or the thickness of OEM rear anti roll bar will be depending on the specifications.
By installing the suitable size of anti roll bar, it is possible to suppress the roll of the vehicle's body without stiffening the suspension and improving cornering and traction. In addition, since the left and right wobbling is suppressed and the posture is stable, there is no discomfort and the risk of motion sickness is reduced.
STAGE 2 ( Lower Arm Bar )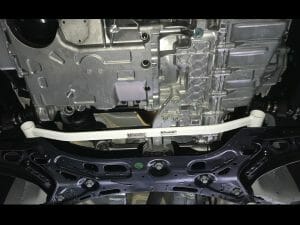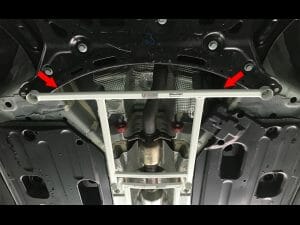 Front Lower Bar 2P                                          Front Lower Bar 4P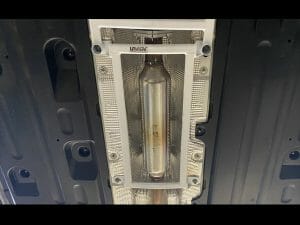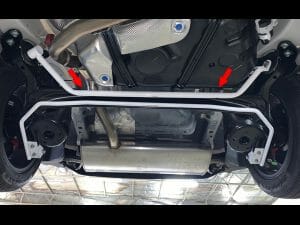 Middle Lower Bar                                                     Rear Lower Bar
Stage 2, comprising Front Lower Bar, Mid Lower Bar and Rear Lower for Proton X50 are able to reduce the car chassis flex and strengthen the main chassis platform. It is highly recommended for heavy load vehicles such as SUV or MPV as it helps to enhance the stiffness and handling during higher speed  and cornering . After a test-drive done by Ultra Racing customers', they highly recommend installing stage 2 bars on their Proton for daily driving, as there's a huge enhancement on driving performance. 
For Proton X50, we've developed the front lower bar in 2 points & 4 points, Mid Lower bar in 4 points and Rear Lower Bar in 2 points.
So, there you go, Ultra Racing's bar for Proton X50. What do you think? Come and experience it by yourself!