Proton X70 launched in Malaysia

In year 2018, The Proton X70 has officially been launched in Malaysia.  The X70 is based on the Geely Boyue – in fact, the first units come fully imported (CBU) from China, with a CKD locally-assembled model in year 2020.
The Proton X70 SUV with Five-seater C-segment is wading into the lucrative, highly-competitive C-segment SUV market. The highlight of the cabin is the new, standard-fit Geely Smart Ecosystem (GKUI) Android-based infotainment system. The biggest feature is the voice control system that uses artificial intelligence technology. Users can control a whole host of vehicular functions such as the climate control, music playback, navigation and even the windows and sunroof.
Nowadays, electronic driving assists are widespread in the trend of Advanced technology. A high level of safety index was performed in Proton X70. The Premium goes one further with the Advanced Driver Assistance System (ADAS), adding Autonomous Emergency Braking (AEB) with Forward Collision Warning (FCW), Lane Departure Warning (LDW), Adaptive Cruise Control (ACC), a Blind Spot Information System (BLIS) and Intelligent High Beam Control (BLIS). There's also a Door Opening Warning System (DOW) that alerts you if you're about to open a door into traffic.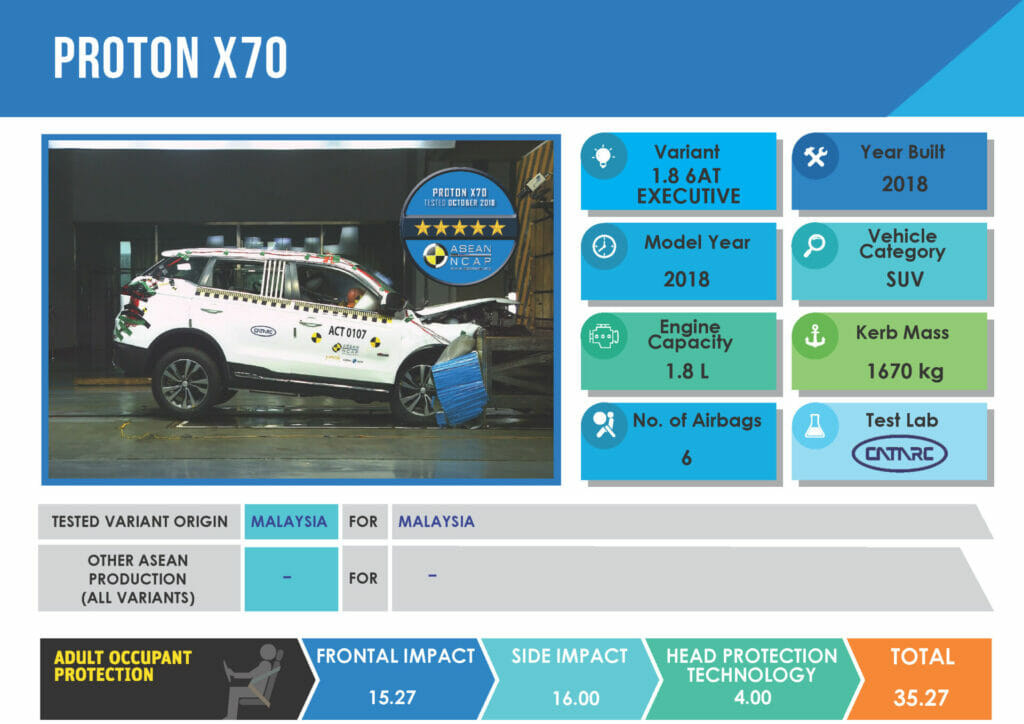 Front-wheel drive is standard except for the Executive AWD, which as the name suggests, gets an all-wheel drive system developed by BorgWarner. So equipped, the car is able to send up to 30% of torque to the rear wheels using a NexTrac electromagnetic multi-clutch coupling. Mcpherson independent suspension for the front wheel and multi-link suspension for the rear wheel.
How many bars available for Proton X70?
In Ultra Racing, the bars available for Proton X70  2WD are Front Strut Bar, Front Lower Bar in 2 points & 4 points, Mid Lower Bar and 2 types of Rear Lower Bar in 2 points. In our experience, Proton X70 does not require an upsize of the OEM rear anti roll bar as it's fine-tuned with input from MIRA in the UK.
The functionality of each of the bars after installed on your Proton X70 are explained below.
Front Strut Bar / Front Tower Bar

Proton X70 CBU & CKD does not come with the OEM front strut bar from the car manufacturer. For Proton X70, Ultra Racing has developed a 2 points front strut bar, located at the top of the absorber (left and right) and hidden under the wiper panel in order not to affect the normal procedure of service and maintenance.
Front Strut Bar / Front Tower Bar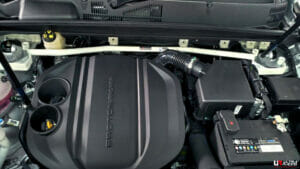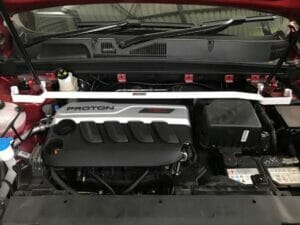 Front Strut Bar (CKD Version)                                            Front Strut Bar (CBU Version)
The car chassis will affect the left and right strut tower and suppress changes in body distortion that occur during running. Furthermore, continuous stress will cause distortion little by little. As known by majority, tire friction, suspension forces, defects from rain water and old car with age will affect a car's life span. Aftermarket suspension and modifications will also increase the burden of the car chassis. 
One of the methods to deal with such a situation is to install a front strut bar/front tower bar, by connecting the left and right strut towers to increase rigidity. Apart from being easy to install, it is the most effective reinforcement part that demonstrates high performance.
STAGE 2 ( Lower Arm Bar )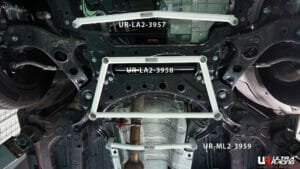 Front Lower Bar 2P & 4P ; Middle Lower Bar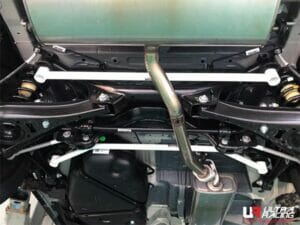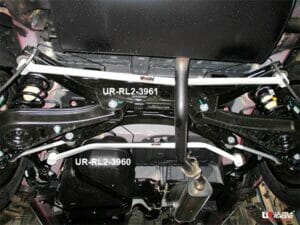 Rear Lower Bar (CKD)                                                  Rear Lower Bar (CBU)      
Stage 2, comprising Front Lower Bar, Mid Lower Bar, Rear Lower Barare able to reduce the car chassis flex and strengthen the main chassis platform. It is highly recommended for heavy load vehicles such as SUV or MPV as it helps to enhance the stiffness and handling during higher speed  and cornering. 
For Proton X70, Ultra Racing developed a front lower bar in 2 points & 4 points, mid lower bar in 2 points, and 2 types of rear lower bar in 2 points. The front lower bar and mid lower bar for X70 are shareable between CBU & CKD, except the rear lower bar as the rear chassis setup is slightly different.
So, there you go, Ultra Racing's bar for Proton X70. What do you think? Come and experience it by yourself!